Wanderung zum Wiesberghaus
Gehen Sie auf Nummer Sicher
Die zahlreichen Wanderwege am Fußes des Dachsteins eröffnen Wanderern eine faszinierende Bergwelt. Aber achten Sie immer darauf: Sie befinden sich im Hochalpinen Gelände. So sollten feste Bergschuhe, Regenkleidung, ausreichend Getränke und das Mobiltelefon immer ständiger Begleiter auf ihrer Tour sein. Dann steht einem Bergabenteuer nichts mehr im Weg.
Von Hallstatt aufs Wiesberghaus
Die knapp vierstündige Wanderung zum Wiesberghaus (1886m Seehöhe) ist eine Tagestour, für die wir uns gründlich vorbereiten und bergsteigerisch gut ausrüsten müssen. Der Weg führt uns über Hallstatts Echerntal hinauf über die Forststraße, bis wir die Abzweigung zum Dachstein-Reitweg erreichen. Von da ab gilt es mehrere Male die Serpentinen der Forststraße zu überqueren. Hoch über dem Dürrenberg gelangen wir zur "Jagarast" und haben einen schönen Blick zurück auf den Hallstättersee. Dann geht es steil hoch durch Lärchenwälder und Latschenbüsche zur Tiergartenhütte (1480m), die nicht bewirtschaftet ist. Von dieser Hütte aus, wo wir auch eine kleine Quelle (Trinkwasser) vorfinden, geht es wieder bergwärts, und wir geraten immer mehr in die Hochgebirgsregion des Dachsteins, wo wir einen herrlichen Ausblick auf das Plassengebiet mit den diversen Almböden haben. Nach einem 3stündigen Marsch erreichen wir das Dachstein-Hochplateau mit der Wiesalm (1670 m), die auf dem Rücken des 1972m hohen Hirlatz, eingebettet zwischen Latschen- und Zirbenhainen, liegt. In einer Stunde haben wir die in den Jahren 1925 bis 1927 von den Naturfreunden errichtete Schutzhütte "Wiesberghaus" (1883m) erreicht. Die mit Schindeln wetterfest verkleidete Schutzhütte ist ein beliebter Zufluchtsort der Dachstein-Touristen und ist gut eingerichtet. Es gibt sogar Zimmer mit Zentralheizung, und es können über 100 Personen übernachten. Das Wiesberghaus ist Ausgangspunkt für zahlreiche hochalpine Bergtouren.
Wer nicht den gleichen Weg zurück nach Hallstatt wählen will, geht den 1 ½ stündigen Hochplateau-Weg zur Gjaidalin (1732 m), von der man mit der Dachsteinseilbahn ins Tal nach Obertraun am Hallstättersee fahren kann. Das Wiesberghaus ist natürlich auch umgekehrt, von der Gjaidalm aus, erreichbar.
Von der Gjaidalm zum Wiesberghaus nach Hallstatt
Wir starten unsere Tour bei der Talstation der Dachstein-Krippenstein Seilbahn in Obertraun. Mit der Gondel geht es bequem auf drei Teilstücken zur Bergstation Krippeneck auf das 2000 Meter hohe Dachsteinplataeu. Von hier aus wandern wir auf einem Fahrweg hinab zum Schilcherhaus auf der Gjaidalm. Von dort folgen wir einem gut ausgeschilderten Pfad nach Westen in Richtung Simonyhütte und Wiesberghaus. Nach zirka einer dreiviertel Stunde teil sich der Weg. Wir folgen dem Wegweiser zum Wiesberghaus in der UNESCO Welterberegion Hallstatt Dachstein Salzkammergut. Nach zirka 45 Minuten durch die schroffe Steinlandschaft des Dachstein haben wir auf dem gutausgebauten Wanderweg nach etwa 1 ½ Stunden unser Ziel erreicht: das Wiesberghaus. Nach einer gemütlichen Rast geht es dann frisch gestärkt talwärts in Richtung Hallstatt.
Aktueller Blick auf's Wetter
Impressions from the Dachstein Hiking World and Free Sports Arena Krippenstein: View from the top station to the Dachstein glacier during a vacation in the Dachstein Salzkammergut holiday region around Lake Hallstatt in Austria.

Durch die sogenannte "Herrengasse" wandert man vorbei am Tiergartenloch. Dieses liegt zirka 150m abseits vom Steig, ist aber aufgrund seiner beindruckenden Größe sehenswert. Weiter geht's zur Tiergartenhütte (nicht bewirtschaftet), wo man kurz verschnaufen und seine Trinkwasservorräte auffüllen kann. Weiter unten am Weg kommt man bei der "Jagerrast" vorbei, wo sich dem Wanderer ein schöner Blick auf Hallstatt Lahn bietet. Von da ab quert man mehrere Male die Serpentinen der Forststraße. Wir folgen den Wegweisern und gelangen so in das wildromantische Echerntal. Der Abstieg vom Wiesberghaus nach Hallstatt dauert zirka drei Stunden. Bequemer ist der Rückweg zur Seilbahn. Hierfür benötigen Sie zirka die Hälfte der Gehzeit.
Erkundungstipp: Für geübte Wanderer ist der Abstecher auf den Ochsenkogel lohnend (zum Gipfel etwa 1,5 Stunden) zumal man von hier einen schönen Blick auf das gesamte Dachsteinmassiv hat.
Unser Wandertipp: Wer jetzt noch Lust zum Weiterwandern hat, der sollte die Simonyhütte erobern. Die bewirtschaftete Hütte liegt direkt unterhalb des mächtigen Dachsteingletschers. Die Gehtzeit vom Wiesberghaus zur Alpenvereinshütte dauert zirka 1 ½ Stunden. Der breite Wanderweg ist bestens ausgebaut und auch für Familien mit Kindern leicht zu bewältigen. Wir empfehlen die Nacht auf der Simonyhütte zu verbringen, denn der Sonnenaufgang ist einfach phantastisch! Von der Simonyhütte gibt es dann mehrere Möglichkeiten, zur Bergstation auf der Gjaidalm zurückzukehren.
The recently established Nature trail on the Dachstein plateau is an important component of the World Heritage Hiking world. This trail travels across the karst plateau and "lures" with pristine high alpine scenery.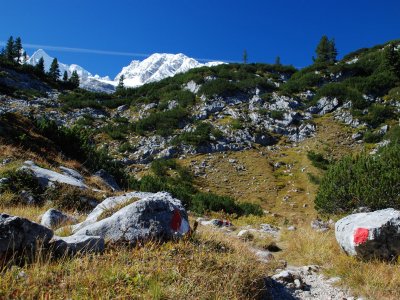 Safety Tips for Hikers
Admittedly, the landscape of the UNESCO World Heritage region of Hallstatt Dachstein Salzkammergut is the absolute pinnacle for hiking fans, mountain enthusiasts and nature lovers—unforgettable tours to incredibly beautiful mountain lodges and meadows, panorama views as far as the eye can see and cherished moments that will last a lifetime! However, you should remember that while hiking you might find yourself in high-alpine terrain. We've put together some resources to assist you: how to best prepare for your tour, recommended items for your backpack and steps to take in an emergency situation. Remember to always play it safe and enjoy your hiking adventure in the Salzkammergut!
More time to enjoy!
To save you unnecessary searching on various websites, we have summarised all relevant information about this tour for you below: contact details, opening times, travel times of cable cars, links to public transport and much more. In this way, you get all the information at a glance and have more time to enjoy the breathtaking mountains of the Salzkammergut.
More offers around this hiking tour
Obertraun | Krippenstein: Discover the fairytale world of the Ice cave and follow in the footsteps of the cave researchers through the Mammut Cave and Koppenbrüller Cave. Feel the adrenaline pumping through your veins on the 5fingers viewing platform.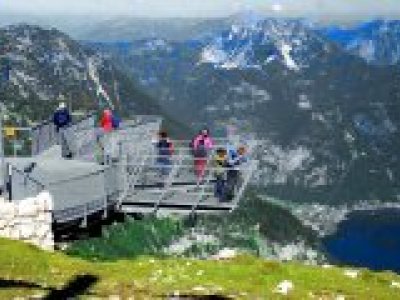 Hallstatt / Obertraun: The hike to the Simony Hut below the mighty Dachstein glacier, is one of the most beautiful hikes in the Salzkammergut. Recommended is the gorgeous sunrise - just a dream!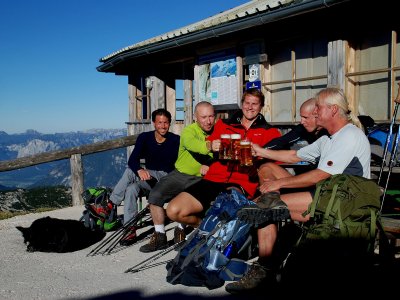 The recently established Nature trail on the Dachstein plateau is an important component of the World Heritage Hiking world. This trail travels across the karst plateau and "lures" with pristine high alpine scenery.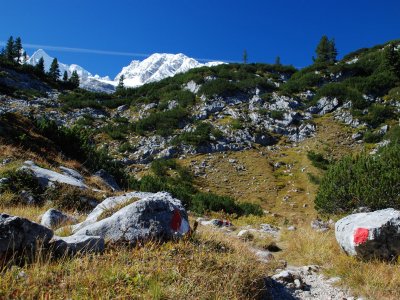 Events along the way
Sat, Oct. 8, 2022 16:30 — 21:00 Dachstein-Krippenstein-Cable car, Winkl 34 Obertraun
Wed, Oct. 26, 2022 10:30 Heilbronner Chapel, Krippenstein Obertraun
Freie Unterkünfte für Ihren Wanderurlaub im Salzkammergut
Sie sind noch auf Herbergssuche im Salzkammergut und haben bisher nichts adäquates gefunden? Bei unserer Abfrage nach herzlichen Gastgebern finden Sie jede Menge Ferienwohnungen, Hotels und Pensionen in der UNESCO Welterberegion Hallstatt Dachstein Salzkammergut. Da ist sicherlich auch etwas passendes für Sie dabei! Starten Sie jetzt ganz unverbindlich die Abfrage und genießen Sie einen unvergesslichen Urlaub am Hallstättersee oder im Gosautal. Los geht's...