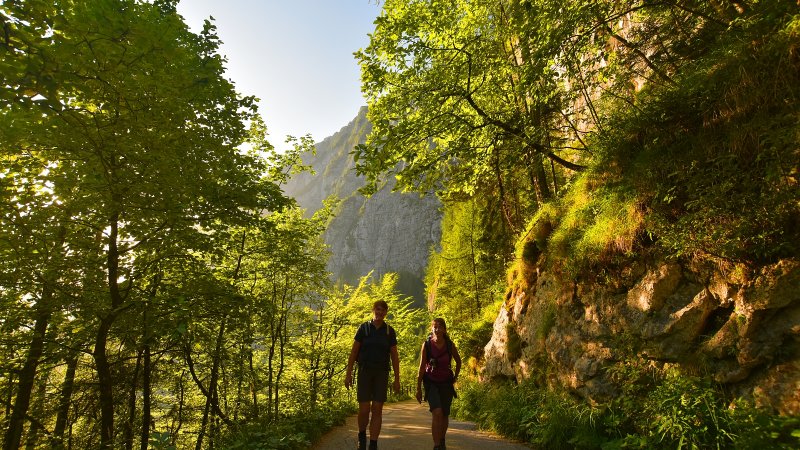 Hiking trails at a glance
Around Hallstatt. Two thousand metre-high mountain tops, gentle crests, smooth hilltops, wide plateaus and mountains of all sizes. No matter what direction you look in Dachstein Salzkammergut, towering peaks are feature of the landscape everywhere. The historical "Soleweg" (brine trail) is widely known as one of Austria's most beautiful trails an other trails.
News for hikerson the
historical Brine Trail (Salzkammergut Soleweg)
Section Hallstatt - Bad Goisern locked
Section Bad Goisern - Bad Ischl open
Section Bad Ischl - Ebensee locked
Dear hiking friends, good news from the Salzkammergut Soleweg. The section between the Bad Goisern district of Steeg and Bad Ischl has been hikeable again since mid-July 2021. The rest of the trail in the direction of Ebensee will be reopened in 2022. The section from Hallstatt to Steeg (Bad Goisern) will then take place in 2024 - just in time for the Capital of Culture Year.
If you still don't want to wait that long and want to hike from Hallstatt to Bad Ischl, we can recommend the following alternative:
From Hallstatt by ferry to the station, on the "Ostuferwanderweg" (east shore hiking trail) to Steeg and then on the Salzkammergut Soleweg via Bad Goisern and Lauffen to Bad Ischl. The walking time for this alternative is about 6 hours. Refreshment stops: Weißenbachwirt, Steegwirt or Seeraunzn. We wish you a pleasant hike!
Another note for hikers in Hallstatt: The ascent via the Soleweg from Hallstatt to the Salzberg remains closed and parts of the World Heritage Hiking Trail in Hallstatt are also not accessible at the moment. Thank you for your understanding. Your editorial team.
Up-to-date information for hikers on the Salzkammergut "Soleweg" Rock clearance work and forest maintenance along the "Soleweg" (brine pipeline path) - observe closures!
The annual rock clearance and forest maintenance work will be carried out along the "Soleweg" from 3rd April until probably 5th May 2023. The section from the Kaiser hunting statue, in Bad Ischl, to Steeg is affected. During the work, the path will be temporarily closed to protect the population from falling trees and rockfall.
For your own safety, please observe and respect the closures along the brine pipeline path and the instructions of the ground staff! After acceptance of the path by the responsible regional geologist, the entire path from Steeg to Ebensee will be opened for general use by mid-May at the lates