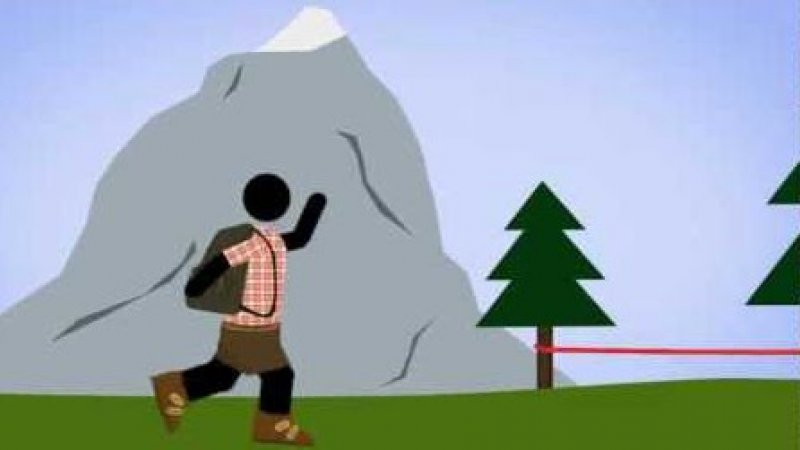 Safely on your way . . .
The Salzkammergut offers hiking options to fit any desire or mood. Whether from the valley floor or along the highest peaks, the unique mountain landscape is always appealing. Alpine meadows, moors, lakes and steep mountains which reach 2000 metres sprinkled with numerous hospitable alpine huts and lodges create a hiking region for the entire family. The hiking opportunities of the UNESCO World Heritage Region of Hallstatt Dachstein Salzkammergut are some of the most diverse in Austria. However, one must remember certain safety aspects when hiking in the alpine terrain. We've created the following collection of the most important tips for mountain enthusiasts and nature lovers. With this information at hand, your hiking tour to the Simony Mountain Hut, to the peak of the Sarstein Mountain or to the "Indian Head" on the Kalmberg will be a breath-taking mountain adventure!
Preparation is key!
Anyone who simply takes off on a hike without making definite plans might quickly find themselves in an uncomfortable or even dangerous situation. Foremost you should never underestimate your physical ability and endurance while hiking. This means that beginning in the planning stage, considerations must be taken regarding the distance, difficulty rating and conditions of a particular route. We would like to provide the following useful tips for a safe and well-prepared hike in the Salzkammergut:
Discuss your plans with your accommodation provider and ask for recommendations or advice.
Take full advantage of daylight and start your hike in the morning. Remember that a detour or a substantial rest en route might be necessary.
Take note of the last available trip times for trains, busses and cable cars. You can find links to regional public transportation in the "Information at a Glance" section below.
If you're planning to stay overnight in an alpine hut or shelter, ask in advance about available accommodations—make sure that the hut is actually open before you start your hike!
Wear the appropriate hiking boots. Rain gear and additional clothing might also be useful. Be sure to take along necessary provisions for food and water!
Don't forget your hiking guide and map!
Watch the weather and listen to weather reports! Current weather report here . . .
Never leave the marked trails.
Never underestimate your physical abilities.
Should your plans change or an overnight stay on the route become necessary, you should definitely contact your hotel in the valley. Failure to do so may result in a false alarm for the mountain rescue or alpine police!
Take these points to heart and your mountain holiday in the UNESCO World Heritage Region of Hallstatt Dachstein Salzkammergut will be an unforgettable and enjoyable experience.
Hallstatt and Obertraun are at the foot of the Dachstein and therefore in a high-alpine region - for your continued safety you should consider the following:
Make your hiking plans known at your accommodation and gather information from the people there.
Make full use of the day on your hikes by starting early enough. A detour or a rest may be necessary.
Note the times of last trains, buses and cable-cars.
 If planning an overnight stay, first check that the accommodation (especially in the mountains) is open and offers provisions.
Use appropriate footwear. Rainwear and spare underclothing are useful. Always take sufficient provisions with you.
Don't forget your hiking guide and maps.
Observe the weather and listen to reports.
Never leave marked trails.
Never overestimate your physical capacity.
After unexpected changes of destination, or an unplanned overnight stay, one should always inform the people at your fixed address in the valley. This will avoid unnecessary notification of Alpine Rescue Teams and the Mountain Police.
Mobile and smart phones on a mountain tour—things to remember!
Should you experience a mountain emergency, you'll need to know what steps to take. In addition to the appropriate first-aid measures, it's important to know how to make an emergency call or initiate the 'alpine emergency signal'. During lengthy mountain tours (longer than one day), mobile phone and smart phones should be carried but powered off. Throughout the high-alpine region, there are constant 'network gaps'. When hiking in such areas, a phone continually tries to establish a network connection and automatically increases its transmission power, which has a negative impact on battery reserves. However, there is a distinct disadvantage of having one's mobile or smart phone turned off that should also be discussed. If one has an accident and is unable to turn on the phone, the phone's GPS function cannot be used by rescuers to establish a geographic location.
Always well-informed
When is the next cable car to the Dachstein Plateau in Obertraun? When does the next sightseeing ship depart from Hallstatt? With the four tourism platforms of the UNESCO World Heritage site of Hallstatt Dachstein Salzkammergut // www.hallstatt.net // www.bad-goisern.net // www.obertraun.net // www.gosautal.net // you will always stay up-to-date on current hours of operation, itineraries and more. If you'd like to use this information for during your stay in the holiday region of Dachstein Salzkammergut, then we would suggest that you save the appropriate website of your holiday destination in your favourites list on your smartphone or tablet. Then, you will always be informed during your holiday in the Salzkammergut. We hope to see you in Hallstatt, Gosau, Bad Goisern and Obertraun!
Safety tips for hiking
As is well known, preparation is everything. Here we give answers to the question "What belongs in my hiking backpack?" The most important things for a great hike.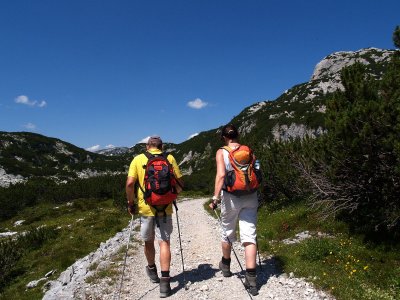 Also in summer, as hikers or walkers on the pastures, there are a number of things to be aware. When dealing with grazing livestock, there are some things to consider. Therefore here are the most important rules of conduct summarised.