Gablonzer hut / Gablonzerhütte
For passionate hikers, climbers and sunbathers
The 'Gablonzerhütte', high above the Gosau valley on the Zwieselalm, is not only a perfect starting point for unforgettable and adventurous days in the Dachstein West hiking region, but also a haven for your holiday in the Dachstein Salzkammergut holiday region. The team of the 'Gablonzerhütte' spoil their visitors with typical regional delicacies and down to earth Austrian cuisine - the view from the sunny terrace, of the legendary Dachstein glacier, is thrown in free of charge.
For those who want to satisfy their hunger for the unique mountain world, we recommend an overnight stay at the Gablonzerhütte in the UNESCO World Heritage region of Hallstatt Dachstein Salzkammergut: Comfortably furnished rooms and a dormitory for up to 40 tired hikers or climbers are available. Advance booking, especially in the summer months, would be a definite advantage!
The new special offer range 'Indulgent cottages in the alps' is addressed to the hiker who loves spending time in the mountains but due to a physical condition or personal circumstances cannot or does not wish to head for any cottage.
The Indulgent Cottage is certified and thereby includes numerous advantages: booking via Internet, information material, transport of luggage to and from the cottage, signposting of paths, service personnel, meals in line with the campaign 'This is how the mountains taste', breakfast buffet, fresh fruit and fresh pastries /cakes, well-assorted drinks menu, rooms bookable by two persons, beds are made, warm water in the bathroom, private showers possible, reading materials, mountain- or hiking guide can be booked, etc.
In both summer and winter, the Dachstein West hiking region offers it many guests, from all over the world, impressive mountains, groomed hiking trails, the Zwieselalm hiking paradise and fantastic climbing routes. The perfect location of the 'Gablonerhütte' means that the mountain oasis is an experience for the whole family - whatever time of year! The lodge hosts have incorporated their creative streak into the furnishings and have paid a lot of attention to original details. So enjoy the amenities of a modern ÖAV (Austrian Alpine Association) hut – also during a sudden change of weather in the mountains!
This is how the mountains taste
The uptake of an Alpine association cottage with the motto 'THIS IS HOW THE MOUNTAINS TASTE' is a hallmark of excellence, which highlights the dedication of the cottage's chef to offer local produce long-term and thereby contributing to the conservation of a sustainable, local mountain agriculture. Typical products from local agriculture / economy include milk, cheese, butter, curd, meat, sausages, smoked products, bread, cakes, pastries, vegetables, potatoes, onions, lettuce, fruit, herbs (herbal teas), eggs, honey, berries, jams, apple juice and other juices, schnapps, liqueurs, firewood and timber ...
Our dishes are always freshly prepared
You can look forward to a generous selection of homely Austrian dishes as well as fresh seasonal meals served in our cosy lounge or on our terrace with stunning views. We only stock Austrian wines, fully convinced of their quality as well as for ecological reasons. Try our special beer 'Paracelsus Zwickl' from the Stiegl Brewery Salzburg – brewed using Austrian raw materials from controlled organic farming. We strive to offer you a wide range of culinary delights and delicacies. With us you may savour the special things in life.
Where Hiking Enthusiasts and Sunbathers Meet
The Zwieselalm in Gosau is one of the most beautiful hiking areas in the UNESCO World Heritage Region of Hallstatt Dachstein Salzkammergut. Extensive hiking routes lead over alpine meadows and through shady mountain forests where one can spend hours of enjoyment or relish in short hikes from one alpine lodge to the next. Whether you're stopping in for a pleasant snack at the Gablonzer lodge, a thirst quencher at the Zwieselalm lodge or a relaxing sun bath at the Sonnenalm, the family-friendly hosts, pure mountain landscapes and impressive views of the picturesque Gosau Lake promise an unforgettable experience in the Lake Hallstatt and Gosau Valley region. We hope you enjoy your hiking holiday in Austria!

Tips: Hiking in autumn
Autumn is here! Hooray! The most beautiful hiking season of the year! However, there are a few things you should keep in mind when hiking, especially at this time of year.
Plan tours properly.
Start early. Especially for high alpine hikes.
Attention: It gets dark early!
If you are staying overnight in a hut, register in good time by telephone.
Do not miss the last cable car ride down the mountain when on mountain tours.
Information on the current operating times of the cable cars in connection with a hike can be found below under "Information at a Glance".
Check snow conditions. Because at this time of the year the first snow can already fall in the high mountains.
We have summarised further important safety tips below.
We wish you an unforgettable hiking autumn in the Salzkammergut.
Your editorial team
Safety Tips for Hikers
Admittedly, the landscape of the UNESCO World Heritage region of Hallstatt Dachstein Salzkammergut is the absolute pinnacle for hiking fans, mountain enthusiasts and nature lovers—unforgettable tours to incredibly beautiful mountain lodges and meadows, panorama views as far as the eye can see and cherished moments that will last a lifetime! However, you should remember that while hiking you might find yourself in high-alpine terrain. We've put together some resources to assist you: how to best prepare for your tour, recommended items for your backpack and steps to take in an emergency situation. Remember to always play it safe and enjoy your hiking adventure in the Salzkammergut!

Hiking & Co. - More offers
Gosau | Zwieselalm:: Here where skiers come to put their carving skills to the test in Winter, the gently rolling green meadows and mountain ridges offer fantastic views – the perfect place to enjoy a walk.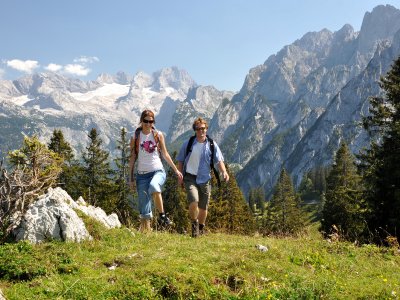 Beautiful two day tour, with unique scenery, around a wildly rugged mountain range. With a wonderful overnight stay in an Alpine hut. For experienced mountaineers.
From Lake Gosau "Vorderer Gosausee" up to "Zwieselalmhöhe". After 1.5 hours you reach the "Zwieselalm" there you have a beautiful few over "Gosaukamm", "King Dachstein" and the lake.
Events on the Zwieselalm in Gosau
Available accommodation for your hiking holiday in the Salzkammergut
Hotels and accommodation providers in Hallstatt, Bad Goisern, Gosau and Obertraun offer the ideal room or apartment for your holidays, no matter what your tastes. Aside from establishments rated according to the international "star" scale, you will also find around Lake Hallstatt in Austria businesses that have been awarded two to four "edelweiss". The more flowers, the greater comforts you can expect. Whether you eventually find your cozy nest in an elegant 5-star luxury hotel, at comfortable guesthouse, a family-friendly apartment, or on a traditional farm, the choice is always entirely up to you.