Place of happiness: Kalvarienberg church in Gosau
Place of tranquillity with distant views
The romantic Kalvarienberg church in Gosau is certainly one of the most beautiful places of happiness in the Salzkammergut. The idyllic gem, a 30 minute walk from the Gosau Tourist Information office, is located high above the holiday resort with wonderful panoramic views of the entire Gosau Valley and the mighty peaks of the Gosaukamm thrown in for free.
Historic background
In 1775, the Hallstatt salt merchant Johann Sollinger erected the Kalvarienberg church and the Stations of the Cross with its five chapels, although - or because – back then Gosau was constituted as an almost closed Protestant community: The Innsbruck University Professor Josef August Schultes, who travelled through the Salzkammergut between 1784 and 1808, even speaks of an Austrian Wittenberg. Much water had to flow through the Gosau stream before the peaceful ecumenism. For example up until 1861 the Protestants refused the tolling of bells or building of a tower and the Catholic priest charged 'surplice fees' for christenings or weddings even if they were carried out by his evangelical colleague.
Our tip: The Kalvarienberg church 'Glücksplatz' (place of happiness), is especially charming in late summer when the early morning fog lies over the valley and Gosau slowly awakes. We suggest you experience it for yourself during a holiday in Gosau! Whatever you choose, we wish you a pleasant holiday in the UNESCO World Heritage region of Hallstatt Dachstein Salzkammergut.

Tips: Hiking in autumn
Autumn is here! Hooray! The most beautiful hiking season of the year! However, there are a few things you should keep in mind when hiking, especially at this time of year.
Plan tours properly.
Start early. Especially for high alpine hikes.
Attention: It gets dark early!
If you are staying overnight in a hut, register in good time by telephone.
Do not miss the last cable car ride down the mountain when on mountain tours.
Information on the current operating times of the cable cars in connection with a hike can be found below under "Information at a Glance".
Check snow conditions. Because at this time of the year the first snow can already fall in the high mountains.
We have summarised further important safety tips below.
We wish you an unforgettable hiking autumn in the Salzkammergut.
Your editorial team
Safety Tips for Hikers
Admittedly, the landscape of the UNESCO World Heritage region of Hallstatt Dachstein Salzkammergut is the absolute pinnacle for hiking fans, mountain enthusiasts and nature lovers—unforgettable tours to incredibly beautiful mountain lodges and meadows, panorama views as far as the eye can see and cherished moments that will last a lifetime! However, you should remember that while hiking you might find yourself in high-alpine terrain. We've put together some resources to assist you: how to best prepare for your tour, recommended items for your backpack and steps to take in an emergency situation. Remember to always play it safe and enjoy your hiking adventure in the Salzkammergut!

Ways to this place & other offers
The lush meadows and fields in summer. The colourful forests in autumn. The Panorama Trail in Gosau is almost always in season. The family-friendly trail invites you to relaxed hiking without much effort. Family and senior-friendly through the Gosau valley to the shores of Lake Gosau. Simply great!
UNESCO World Heritage of Hallstatt Dachstein Salzkammergut | Places of happiness: Find the best areas of tranquillity, energetic places and relaxation points between lakes and mountains! Holiday for body and soul. Stock up now!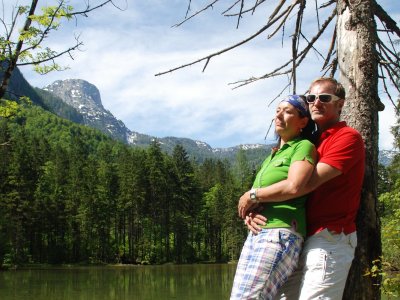 An easy stroll from the village centre of Gosau through the church quarter. This stroll is also suitable for families with pushchairs. A short hike for the whole family. With many stations worth knowing. A great tour even on rainy days!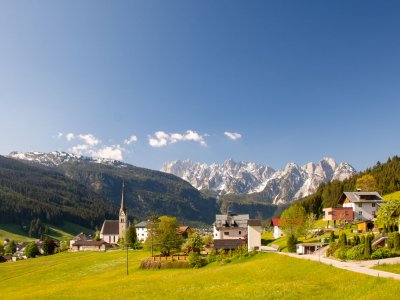 Search and Book
Sie sind noch auf Herbergssuche im Salzkammergut und haben bisher nichts adäquates gefunden? Bei unserer Abfrage nach herzlichen Gastgebern finden Sie jede Menge Ferienwohnungen, Hotels und Pensionen in der UNESCO Welterberegion Hallstatt Dachstein Salzkammergut. Da ist sicherlich auch etwas passendes für Sie dabei! Starten Sie jetzt ganz unverbindlich die Abfrage und genießen Sie einen unvergesslichen Urlaub am Hallstättersee oder im Gosautal. Los geht's...