Dachstein Round Tour (Dachsteinrunde)
Four alternatives - One great cycling event! Choose from four different routes between 182 and 269 kilometres, and 4700 to 7900 metres of altitude. This three day tour is the Crown of mountainbike holidays here in the Salzkammergut, or maybe for a long weekend break. Bike specialists in the Salzkammergut offer many great packages in honour of the vent!
You nreak on the Dachstein round in the World heritage
Bad Goisern on Lake Hallstatt | Hütteneckalm: Pamper your soul with an incredible view of the World Heritage region while the Hütteneckalm team take care of your creature comforts. It doesn't get any better!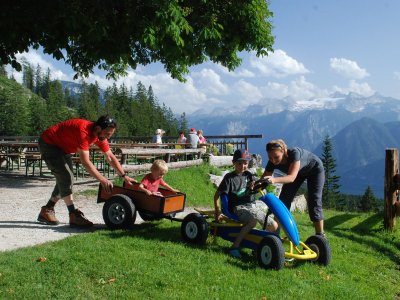 Gosau | Klackl or Seeklausalm: Alpine hut with down to earth comfort and fantastic views of the Gosau lake and the Dachstein glacier. Alpine life with water wells and cows - super idyllic!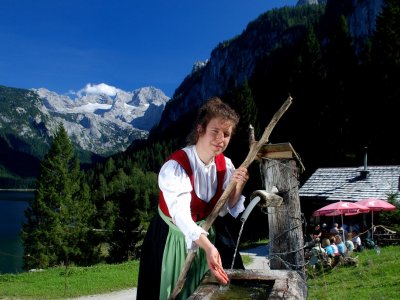 The reputaton of the Dachstein Round as an exciting event is spreading quickly, and so more enthusiastic bikers are registering for the event every year. Little wonder, as the route takes in magnificent mountain scenery all around "King Dachstein", and the crystal clear lakes of the Salzkamergut. The Dachstein Round is suited to the curious new competitors keen to explore a beautiful region throughout this multi-stage tour and also to the experienced champion cyclist. The "classic" routes are those marked blue and red, and the longer, significantly more challenging routes are marked in black and orange.
The ideal intoduction to adventurous mountain bike tours. From the Dachstein Salzkammergut the route continues in a clockwise direction around the impressive Dachstein plateau: from the Aussee area via the Viehbergalm into the Enns valley, and then onwards to Ramsau and, finally, via the Salzburgerland back to Lake Hallstatt.
is a contrast to the original blue route. It is somewhat more challenging. The red route covers the same terrain as the blue, but in the other direction.The ascents are technically more challenging. On the first day the route takes you from Hallstatt to Gosau where you can enjoy magnificent mountain scenery. We continue then to Ramsau and via a strenuous route back into the beautiful Salzkammergut.