'Klackl or Seeklausalm' on Lake Gosau
Brettljause between mountains & lake
After hiking with your family around the picturesque Lake Gosau in the afternoon, or conquering the climbing route with friends or a leisurely paddle over the idyllic mountain lake with your partner, when the dairyman greets you with a cheerful "Griaß di" and you are served with a hearty Brettljause (Austrian ploughman's lunch)... this is the experience of summer on the Klackl or Seeklausalm Alpine pasture in UNESCO World Heritage region of Dachstein Salzkammergut. A hearty meal with homemade natural products from the region, along with a fresh shandy, the breath-taking panoramic view of the mighty Dachstein Glacier and the romantic ringing of cowbells – this is how diverse and stunning a holiday on Lake Gosau can be!
Our tip: The Klackl or Seeklausalm in Gosau is particularly good "for guests who are not able walkers": The idyllic mountain pasture, above Lake Gosau, is a 10 or 15 minute walk from the large car park or bus stop respectively!
Current weather view
Family holiday in Gosau: The world-famous view from Lake Gosau to the majestic glaciers of the Dachstein in the UNESCO World Heritage region of Hallstatt Dachstein Salzkammergut. Meeting place for hikers, climbers and worshipers.

Colourful light shows
Tranquillity, as you have never experienced it before. Get up early in the morning, before sunrise and stand in front of the hut and be immediately surrounded by the unspoilt nature of the UNESCO World Heritage region of Hallstatt Dachstein Salzkammergut. Birds sing the first song of the day. Cowbells ringing in the distance, enjoy your morning coffee on the hut bench while tasting the fresh air - that's what people from all over the world find fascinating about a magical overnight stay in a hut in the holiday region of Dachstein Salzkammergut. Relax your eyes and gaze into the distance, forget everyday life, soak up the rays of the sun, feel the wind on your skin and just unwind. So have we filled you with desire? What are your criteria for a hut night?
Gosau | Breath-taking glacial views, rustic alpine huts, challenging fixed-rope climbing routes, sensational water settings—a travel destination with endless possibilities!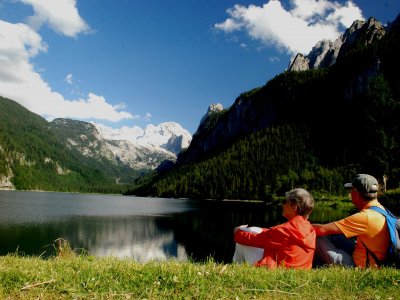 Rustic! Incomparable! Simply Irresistible!
Simply get away from the hustle and bustle, surrounded by nature, cowbells ringing instead of your smartphone…. Holidays up on an Alpine pasture, or in one of the many mountain huts, are becoming increasingly popular. But it is not always easy to find the "right" Alpine pasture or mountain hut. Therefore, we have compiled the most beautiful "Mountain service stations" for you, with stunning panoramic pictures and the most important information for all "newcomers" and World Heritage hikers. As it is usual in the Simonyhütte, the Adamekhütte or Hütteneckalm in Bad Goisern to greet people informally with a "Du" rather that the formal "Sie", as we say here in the UNESCO World Heritage region of Hallstatt Dachstein Salzkammergut…. "Grias di"!
Information at a glance
Location: 970m above sea level - | Klackl or Seeklausalm in Gosau
Contact:
Vroni Egger
4824 Gosau
Phone: +43 (0) 6136 8407 or +43  (0) 6136 8563
E-mail: tgams@aon.at
Category: managed Alpine hut
Opening times: open daily from early / mid-May to mid / late September.
Facilities: restaurant and outdoor dining area with seating for 20 or 30 respectively
Hiking possibilities: Around Lake Gosau (about 1 hour)