Winter sports areas closed!
Note for winter sports enthusiasts
Ski resorts reopen in December 2022
At the moment, the ski resorts in the Salzkammergut are in summer sleep. But even this time will eventually come to an end. Then it's back to the slopes. Snow permitting, the Dachstein West ski area in Gosau will open its doors just in time for Advent on Saturday 8rd December 2023. At the same time, the popular "Gosauer Bergweihnacht" Christmas market will also be open. In Obertraun on Lake Hallstatt, Father Christmas will open the new winter season in the FreeSports Arena on the 2000m-high Krippenstein on 23th December 2023. All subject to there being enough snow - see you skiing and snowboarding in the Salzkammergut.
Ideal skiing conditions
The Dachstein Salzkammergut region claim to have wide areas of skiing freedom and no waiting at the lifts. Experience the spell of the mountains in the secluded vastness of the Dachstein. The solitary of nature, the magic of the powder snow and the wide open spaces – this may be the ultimate experience! For those who prefer the ski piste – no matter what age – may challenge the numerous slopes of the Dachstein area!
Our offers
On the road with the professionals
They can trust you! Guided mountain and lake experiences: Rock climbing, hiking, white water rafting, kayaking and canoeing. On the road with the professionals! Only the best for an unforgettable adventure holiday in the Salzkammergut region.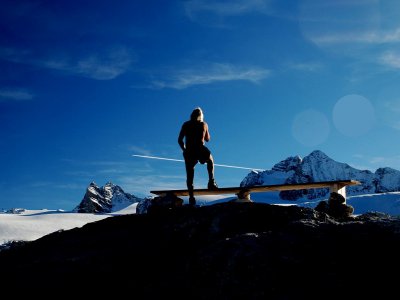 Book a winter holiday around Lake Hallstatt now!
Numerous hosts, in Bad Goisern on Lake Hallstatt, Gosau, Hallstatt and Obertraun await you with cozy inns, well-kept guesthouses and the very best hotels. For a list of all accommodation providers for your snowshoe hiking holiday in the holiday region of Dachstein Salzkammergut, see our accommodation directory. The numerous hosts offer accommodation to suit all budgets. Stay in constant interaction with the surrounding nature. We hope you enjoy your winter holiday in the Salzkammergut!