Winter hicking around Lake Hallstatt
Fairytale in white
Glittering ice crystals. Snow-covered hills, mountains and forests. Bizarrely shaped icicles. This is winter hiking in the Salzkammergut. Add to that the unordinary wintry silence as the soft snow swallows almost every sound. Enjoy this magical winter paradise during a relaxing hike through the magical snowy landscape of the Dachstein Salzkammergut holiday region. Perfect for time-out in white!
The Bachweg in Gosau and the Traunreiterweg in Bad Goisern provide some variation in winter. The winter hiking trail in Gosau follows the Gosaubach from the Vordertal to the Hintertal.
Snow-covered hills and pine trees along the Waldbach stream, in Hallstatt, transform the landscape in the wildly romantic Echerntal into a magical winter wonderland. The fresh, clear winter air is healthy and puts colour into your cheeks.
Obertraun has much to offer as a high winter alternative to the rough and tough tracks from the Dachstein.
Do you love to experience unusual original nature? Then you should definitely give snowshoeing a try. Enjoy the silence of winter, experience the untouched nature and immerse yourself into the enchanted winter wonderland far from the crowds and hustle and bustle.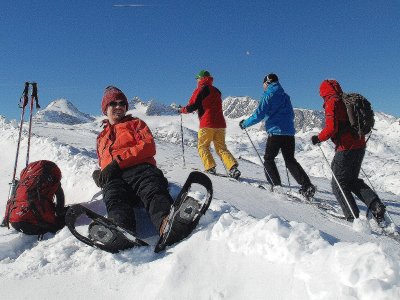 Please remember: The cross-country ski trails and ski slopes are specifically and exclusively prepared for winter sports participants. Foot prints not only damage the slopes or cross-country tracks, but can also be dangerous for the winter sports participants. If you observe this, nothing will stand in the way of your unforgettable winter holiday is in the Dachstein Salzkammergut holiday region!