Rudolfsturm (Rudolf's Tower)
Standing at the entrance to the Salzberg high valley above Hallstatt, Austria, the original structure of the Rudolfsturm (Rudolf's Tower) was a medieval defence tower dating back to the late 13th century. From that time until 1954, the tower served as a residence for the respective mining operations manager. The architectural history of the Rudolfsturm – which was known as the "Ruedolfstain" in the 16th century – has been thoroughly examined in the literature; an article written by Georg Heilingsetzer is particularly noteworthy in this regard. 1284 is the year most often specified as its construction date, and when this is cited, Dicklberger (1817) is the source named. But there are also sources giving the construction date as 1294.
Hallstatt | Salzberg: Everyone needs a bit of excitement! 350 meters above the rooftops of Hallstatt: The spectacular viewing platform "World Heritage View" on the Salzberg (salt mountain). A must to be experienced!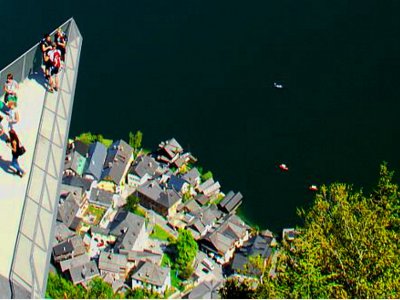 An arbour was added in the southwest corner of the annex in 1903, but it was not preserved. Its design reflected the rustic style of the bourgeois pastime of taking summer holidays, which was popular in that period, featuring cut planks near the parapet and large areas of glass installed in its mullioned structure. The structural interventions on the Rudolfsturm that were carried out between 1910-1955 are illustrated in the description of the building complex written by the Hallstatt salt mine administration in 1908.
The oldest saltmine in the worldt
Hallstatt | Salt mine: On the trail of the "Man in Salt" in the oldest salt mine in the world. Going through tunnels which have been hand dug by people over 3000 years ago. A Family Experience!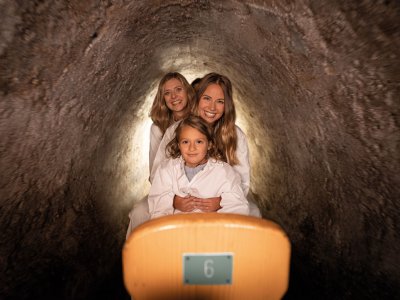 The subsequent conversion of the Rudolfsturm into a restaurant preserved the utility value of the property and guarantees its continued existence. The tourism boom in the 1960s necessitated an expansion of the available space, which was accomplished through the additional construction of a "hall" directly adjacent to the northeast side of the tower.
Typical of this period, this annex was equipped with large windows on three sides, and the two doors aligned with the structure's axis unpretentiously integrate a passing-through motif – the link between the salt mines and the market. Snow pressure caused this addition to collapse in 2006 and its remnants were razed. The Rudolfsturm was renovated for the 2008 Upper Austrian Regional Exhibition and supplemented with an extra annex on the side facing the mountain.