Character & Legend Trail in Bad Goisern
Heroes above the Traun
Where do you meet daredevil heroes, brave princesses or enchanted mythical creatures? Well? Where? Of course! On the Character & Legend Trail high above the Goisern valley. The family-friendly high-altitude trail, which can also be easily hiked with an all-terrain pram, was built in 1955 by the Austrian Federal Forests not for forestry reasons, but for tourism.
Made in Bad Goisern
The young Goiserer lumberjack and blasting master Ernst Reisenbüchler and his helpers boldly blasted the hiking trail with two tunnels into the wall. Fabulous creatures carved from tree trunks accompany you along the way.
Panels with legends from the area tell of events from days long gone.
Path through the rock
When you have arrived at the "Lindwurm-Loch", be sure to walk a few hundred metres further on the high trail through the "Ewige Wand". From here you can enjoy a fantastic view over the Goisern valley. At the end of the trail, ambitious hikers can continue to Bad Ischl or climb the proud Predigtstuhl.
For those who need a break, there is a great resting place on the left side of the trail with a phenomenal view far across the Goisern Valley to Lake Hallstatt and the 2000-metre-high Krippenstein. A colourful lookout, especially in autumn. You simply have to linger here before heading back.
All good things come from above
On a side note, a small detail: If you hear a friendly "hello" from above, during your hike on the Character & Legend Trail, don't be surprised. The "Ewige Wand" is a popular paradise for climbers. A via ferrata runs directly above the hiking and walking trail. This is a source of amazement time and again. Marvel with us!
Culinary finale
A stop at the Berggasthof Rathlucka Hütte promises excellent cuisine paired with an incredible view. The family-run gourmet "Rest Station" impresses guests from all over the world with its down-to-earth cuisine - which also serves its guests classic dishes and meals in a very special way. Be sure to take a look!
This might interest you
Bad Goisern | Ewige-Wand-Klettersteig: A short but nevertheless very exposed via ferrata, which, on its own, is less interesting. However, this climb can be combined with the original "Leadership Klettersteig"" to the summit of the Predigstuhl along a marked footpath.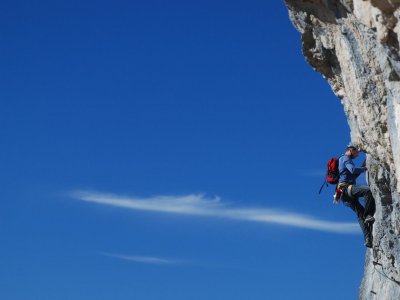 Available accommodation for your hiking holiday in the Salzkammergut
Hotels and accommodation providers in Hallstatt, Bad Goisern, Gosau and Obertraun offer the ideal room or apartment for your holidays, no matter what your tastes. Aside from establishments rated according to the international "star" scale, you will also find around Lake Hallstatt in Austria businesses that have been awarded two to four "edelweiss". The more flowers, the greater comforts you can expect. Whether you eventually find your cozy nest in an elegant 5-star luxury hotel, at comfortable guesthouse, a family-friendly apartment, or on a traditional farm, the choice is always entirely up to you.