Koppental Hiking Trail in Obertraun
Study trail
Travel to Bad Aussee by train from either the "Obertraun Koppenbruellerhoehle" stop or the "Obertraun Dachsteinhoehlen" railway station. Here we join a forest track which runs adjacent to the River Trau and the railway line. This brings us after about 1.8km to the so-called "Exit" where we approach the neighbourhood of Sarstein. To do this we need to cross the Traun and taking the gently ascending path. In Sarstein itself there are 2 places where you can buy refreshments. After a short stretch through this romantic part of Aussee we reach a forest track. Here we make our way up to a mountain hut (the "Vogelhuette") and now and again we get a lovely view of the Krippenstein.
The hut provides shelter when necessary. At this point we have already completed half of the walk. From here we bear left and walk down towards the Traun again. We cross the river via a newly built swing bridge. What now lies before us is 3.5 km of what is the most wildly romantic part of this new trail. This has been built on the old railway embankment which runs alongside the babbling Traun. The embankment was washed away by flooding in 1897 and then built up subsequently. We pass through the old railway tunnel which was the only defence against these water torrents and arrive at the rugged Koppenbruellerhoehle (caves).
These limestone, water-bearing caves with stalactites and stalagmites are open from the end of April to the end of September. There are guided tours daily from 10.00 to 16.00 hours.
Now we are only 10 minutes' walk from the end of the actual Koppental trail, but there is an opportunity to take a diversion to the idyllically situated Kopppenwinkelsee (lake) and then to the Koppenwinkalm (mountain pasture). This is a round trip of around half an hour. The usual route (about 4km long), however, takes us back to our starting point (Obertraun Dachsteinhoehlen station). For those who wish to extend this comfortable, half day walking tour a little further there it is possible to follow the well-known, 10 km trail along the eastern shore of the Hallstatt lake to Steeg.

Tips: Hiking in autumn
Autumn is here! Hooray! The most beautiful hiking season of the year! However, there are a few things you should keep in mind when hiking, especially at this time of year.
Plan tours properly.
Start early. Especially for high alpine hikes.
Attention: It gets dark early!
If you are staying overnight in a hut, register in good time by telephone.
Do not miss the last cable car ride down the mountain when on mountain tours.
Information on the current operating times of the cable cars in connection with a hike can be found below under "Information at a Glance".
Check snow conditions. Because at this time of the year the first snow can already fall in the high mountains.
We have summarised further important safety tips below.
We wish you an unforgettable hiking autumn in the Salzkammergut.
Your editorial team
Safety Tips for Hikers
Admittedly, the landscape of the UNESCO World Heritage region of Hallstatt Dachstein Salzkammergut is the absolute pinnacle for hiking fans, mountain enthusiasts and nature lovers—unforgettable tours to incredibly beautiful mountain lodges and meadows, panorama views as far as the eye can see and cherished moments that will last a lifetime! However, you should remember that while hiking you might find yourself in high-alpine terrain. We've put together some resources to assist you: how to best prepare for your tour, recommended items for your backpack and steps to take in an emergency situation. Remember to always play it safe and enjoy your hiking adventure in the Salzkammergut!


 
Rest stops & other offers
Aussseerland | Heartfelt greetings - "Grüß Gott" from the holiday area Ausseerland - Salzkammergut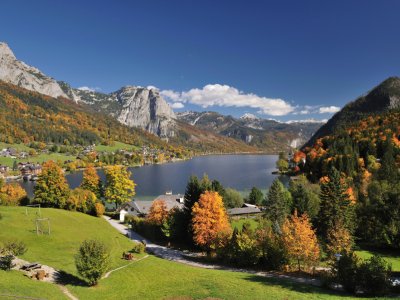 Events in the Koppen Valley
Wed, May. 1, 2024 Koppenbrüller cave (Koppenbrüllerhöhle), Obertraun