The youth-spring way (Jungbrunnenweg) in Russbach
"Experience and knowledge path"
"The Jungbrunnenweg* is a 4.5 km long "Experience and knowledge path"above Rußbach. Along the path, more than 200 different kinds of herbs, flowers and protected orchids grow in wild environment conditions. Discover, at more than 30 stations, the directions about herbs, hints for gymnastic, wisdom of the forest and fairytales of the herbs.The Jungbrunnenweg starts at the community of Rußbach. In the first part follow the direction to Rinnberg (path nr. 203).You come along a romantic stream. After about 1 km at the first turning left, a big showcase marks the start of the path.
Forest games for children
We'll play at skittle with fir cones and stones at the Bowling Alley. We'll play a special kind of basketball, we'll build a farm-house and a goblin house and ... and ... and you'll discover, along the Jungbrunnenweg, the innovation of 12 sites with squirrel stamps.
Guided herb trail
From the middle of May to the end of October the Jungbrunnenweg is signed. A guided herb trail takes place on every Tuesday (also if it rains). On both sides of the Jungbrunnenweg you'll find, displays and signs with our Eagle Eye logo. Remember, what is written there, be- cause that is the purpose of our Jungbrunnenweg riddle (for schoolkids). Your will get the "Eagle Eye" medal for free, in the mountain restaurant (at the end of the Jungbrunnenweg)
Safety Tips for Hikers
Admittedly, the landscape of the UNESCO World Heritage region of Hallstatt Dachstein Salzkammergut is the absolute pinnacle for hiking fans, mountain enthusiasts and nature lovers—unforgettable tours to incredibly beautiful mountain lodges and meadows, panorama views as far as the eye can see and cherished moments that will last a lifetime! However, you should remember that while hiking you might find yourself in high-alpine terrain. We've put together some resources to assist you: how to best prepare for your tour, recommended items for your backpack and steps to take in an emergency situation. Remember to always play it safe and enjoy your hiking adventure in the Salzkammergut!
More about the place
Russbach | for waterpark lovers: big nature-made swimmingpool with impressive waterfall, non-swimming area, variable jumping possibilities and an exclusive waterslide.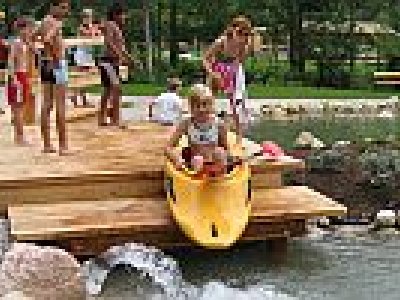 Available accommodation for your hiking holiday in the Salzkammergut
Hotels and accommodation providers in Hallstatt, Bad Goisern, Gosau and Obertraun offer the ideal room or apartment for your holidays, no matter what your tastes. Aside from establishments rated according to the international "star" scale, you will also find around Lake Hallstatt in Austria businesses that have been awarded two to four "edelweiss". The more flowers, the greater comforts you can expect. Whether you eventually find your cozy nest in an elegant 5-star luxury hotel, at comfortable guesthouse, a family-friendly apartment, or on a traditional farm, the choice is always entirely up to you.

.