Please note
"Ostuferwanderweg" (East Shore Hiking Trail) Latest
Information for hikers and bikers
No return options by train in autumn
Dear hikers and bikers, please note that the railway line along Lake Hallstatt will be closed from 19th September 2022 to 13th October 2022 due to construction and renovation work.
Bus Instead of Train
During this time, there are no return options by train.
The station "Obersee" is also affected. The railway has arranged a rail replacement service for this period.
Return buses are available from the stops "Traun-Brücke" in Steeg / Bad Goisern and "Resort" in Obertraun.
Path is open!
Another note: The hiking trail and also the cycle path are passable during the period of construction work. The Seeraunzn restaurant is open.
Questions about the ferry service?
It is not yet clear whether the ferry will operate between Hallstatt town and Hallstatt train station during the period in question. According to information provided by the ferry operators "Hallstättersee Schifffahrt" on 2nd August 2022, there will probably be a limited ferry service.
Questions? If you have any questions on this subject, please send them directly to:
Special service for travellers
Timetable for rail replacement services
09.09.2022 - 13.10.2022
All information in one compact PDF file
Download & print now
A cross the Salzkammergut
he idea to create a trip in stages across the whole Salzkammergut was inspired by the famous Transalp. An attractive offer in two versions was created! The two most beautiful spots of the region are crossed from the Trans Salzkammergut Grand Tour and the Trans Salzkammergut Round Course.
The Trans Salzkammergut Grand Tour, a transition of the region in four firm stages from Bad Mitterndorf to Gmunden. On a total of 7.004 difference of altitude and a length of 294 kilometers you pass nine lakes, stay overnight two times in huts and pass well known names of the region around the Dachstein. From Lake Grundl to the so called Viehbergalm, Hallstatt , Blaa Alm and "Hütteneck" to the so called "Ewigen Wand" Bad Ischl und Lake Traun , before you go back to the start with an organised return transport.
Break on the hut
Bad Goisern on Lake Hallstatt | Hütteneckalm: Pamper your soul with an incredible view of the World Heritage region while the Hütteneckalm team take care of your creature comforts. It doesn't get any better!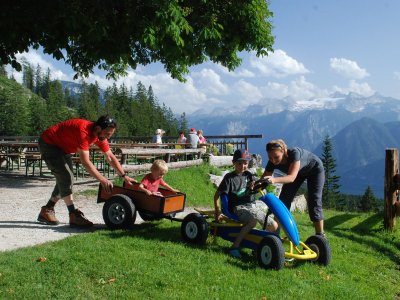 Colourful flower meadows, ponies, cows, sheep, donkeys and much more make this alpine pasture in Gosau a popular meeting place for hikers, mountain bikers and families with children.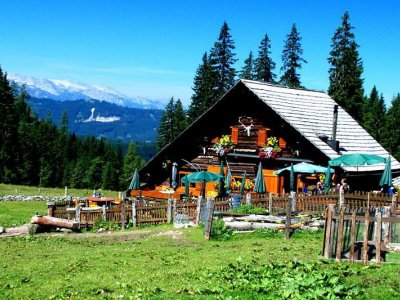 Gosau | Klackl or Seeklausalm: Alpine hut with down to earth comfort and fantastic views of the Gosau lake and the Dachstein glacier. Alpine life with water wells and cows - super idyllic!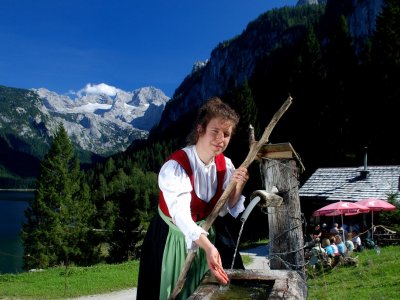 The Light Tour for hasty persons; it´s called Small Round Course and leads in three stages, starting from Bad Mitterndorf over the so called "Viehbergalm" and Gosau back to Styria. But watch out, the tourname may bluff! With a total distance from 209 kilometers and 4.570 meters difference of altitude you also pass well known names around the Dachstein, like Grundlsee and the so called "Viehbergalm", Hallstatt , Blaa Alm and the Hütteneck to the so called "Ewigen Wand", the "Gamsöfen", Bad Ischl and Lake Traun , you also come to daily quotas, which need some good condition and stamina.
Information at a glance
Maps are already available for € 4,20 (exclusive of mailing expenses) in all touristoffices of the Salzkammergut region. If you want to order one, please send us a short message to: Info@Inneres-Salzkammergut.at