A cross the Salzkammergut
he idea to create a trip in stages across the whole Salzkammergut was inspired by the famous Transalp. An attractive offer in two versions was created! The two most beautiful spots of the region are crossed from the Trans Salzkammergut Grand Tour and the Trans Salzkammergut Round Course.
The Trans Salzkammergut Grand Tour, a transition of the region in four firm stages from Bad Mitterndorf to Gmunden. On a total of 7.004 difference of altitude and a length of 294 kilometers you pass nine lakes, stay overnight two times in huts and pass well known names of the region around the Dachstein. From Lake Grundl to the so called Viehbergalm, Hallstatt , Blaa Alm and "Hütteneck" to the so called "Ewigen Wand" Bad Ischl und Lake Traun , before you go back to the start with an organised return transport.
Break on the hut
Bad Goisern on Lake Hallstatt | Hütteneckalm: Pamper your soul with an incredible view of the World Heritage region while the Hütteneckalm team take care of your creature comforts. It doesn't get any better!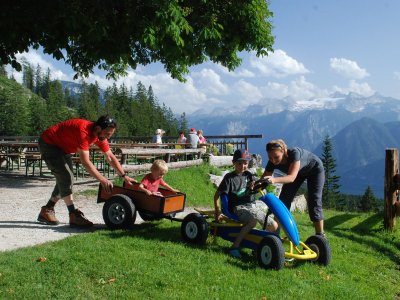 Gosau | Klackl or Seeklausalm: Alpine hut with down to earth comfort and fantastic views of the Gosau lake and the Dachstein glacier. Alpine life with water wells and cows - super idyllic!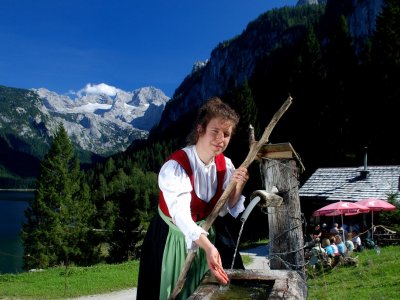 The Light Tour for hasty persons; it´s called Small Round Course and leads in three stages, starting from Bad Mitterndorf over the so called "Viehbergalm" and Gosau back to Styria. But watch out, the tourname may bluff! With a total distance from 209 kilometers and 4.570 meters difference of altitude you also pass well known names around the Dachstein, like Grundlsee and the so called "Viehbergalm", Hallstatt , Blaa Alm and the Hütteneck to the so called "Ewigen Wand", the "Gamsöfen", Bad Ischl and Lake Traun , you also come to daily quotas, which need some good condition and stamina.
Information at a glance
Maps are already available for € 4,20 (exclusive of mailing expenses) in all touristoffices of the Salzkammergut region. If you want to order one, please send us a short message to: Info@Inneres-Salzkammergut.at
All 4 one
Tourist information
The 4 tourism offices of the
UNESCO World Heritage region of H
allstatt Dachstein Salzkammergut
on a click
Tourism information Bad Goisern
Phone: +43 (0) 5 95095 100
E-Mail
Tourism information Gosau
Phone +43 (0) 5 95095 20
E-Mail 
Tourism information Hallstatt
Phone +43 (0) 5 95095 30
E-Mail
Tourism information Obertrau
n Phone: +43 (0) 5 95095 40
E-Mail