Recreational paradise on Lake Hallstatt
Summer, blue skies, sunshine: Indispensable on a summer vacation, in the Salzkammergut, is the extensive bathing fun. The family-friendly beach in Obertraun on Lake Hallstatt is one of the most beautiful and best maintained swimming facilities on Lake Hallstatt and scores high with guests and hosts in many ways: with a beach volleyball court, children's playground, barbeque areas, water slide, and even free parking.
The large sunbathing area, the spacious changing rooms and the beautifully situated snack bar, with a variety of delicacies, are ideal for long swimming days in the World Heritage region of Hallstatt / Dachstein Salzkammergut. This is what makes bathing in Obertraun on Lake Hallstatt fun: Summer, sun, Salzkammergut!
Please note!
How do storm warning beacons work?
Whether you're out in a rental boat from one of the numerous rental agencies on Lake Hallstatt or underway in your own vessel, there is always a potential for storms or high waves on the lake. Storm warning beacons call attention to the weather conditions in the area. The storm warning beacons (an orange, blinking spotlight) are positioned in the north and south so that at least one signal is visual from any point on the lake.
In this manner, water enthusiasts can be immediately warned in the event of strong winds or storms. You should be aware of and heed the respective signals. A quickly rotating light signifies an approaching storm. You should leave the water immediately!
A slowly rotating light means that a storm can arise at some point in the near future. You may remain on the water but stay close to shore. Should you find yourself in a dangerous situation, call the emergency number 130. Your boat rental agency is available to answer additional questions. We hope you have a memorable and safe outing on Lake Hallstatt. 
Questions?
If you have any questions on these topics, please contact the staff at Tourism Information.
All 4 one
Tourist information
The 4 tourism offices of the
UNESCO World Heritage region of H
allstatt Dachstein Salzkammergut
on a click
Tourism information Bad Goisern
Phone: +43 (0) 5 95095 100
E-Mail
Tourism information Gosau
Phone +43 (0) 5 95095 20
E-Mail 
Tourism information Hallstatt
Phone +43 (0) 5 95095 30
E-Mail
Tourism information Obertrau
n Phone: +43 (0) 5 95095 40
E-Mail

Please note
Due to the current situation, changes can occur at any time. We look forward to your visit to the UNESCO World Heritage Region of Hallstatt Dachstein Salzkammergut and wish you a relaxing and restful holiday. See you in the heart of Austria.
Your editorial team.
The Immervol bike rental is located directly at the See-Cafe & beach in Obertraun. The perfect starting point for a bike ride along Lake Hallstatt on the "Ostuferradweg" for example.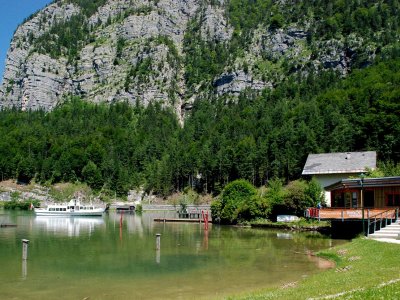 Obertraun | Immervoll boat hire: Located directly on the beach with lakeside café. For ePirates, thigh pumpers thighs or biceps posers – for each captain, the right boat!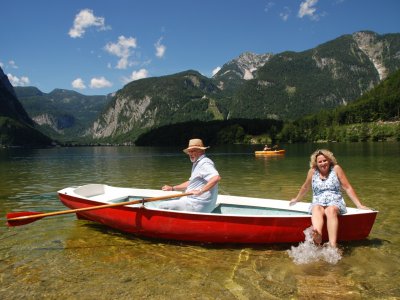 Take an extraordinary ride on Lake Hallstatt with Navia, and turn back time. On board a Zille, sister to those that transported the "white gold" from Hallstatt's Salzberg, or Salt Mountain, into the wider world 500 years ago.