Bootsverleih in Obertraun am Hallstättersee
New perspectives from Lake Hallstatt
Whether it's an electric boat, a cool swan pedal boat or a leisurely rowboat - The Obertrauner boat rental at the "Seecafe" on the beach offers the right boat for everyone.
It is the silence, the moment, and the play of the waves as your boat glides across the waters that make these impressions so unique. Whichever route you choose, Lake Hallstatt always gives new perspectives and always leaves time to discover new hidden gems. Get in and discover with the Obertraun Immervoll boat rental a new side to your holiday in the holiday region of Dachstein Salzkammergut. If you want to be on the safe side, on hot sunny days we recommend you call and reserve a boat.
The Immervol bike rental is located directly at the See-Cafe & beach in Obertraun. The perfect starting point for a bike ride along Lake Hallstatt on the "Ostuferradweg" for example.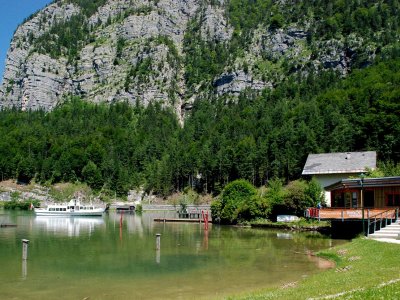 Obertraun on Lake Hallstatt | Strandbad: The family-friendly beach in Obertraun on Lake Hallstatt is one of the most beautiful and best maintained swimming facilities on Lake Hallstatt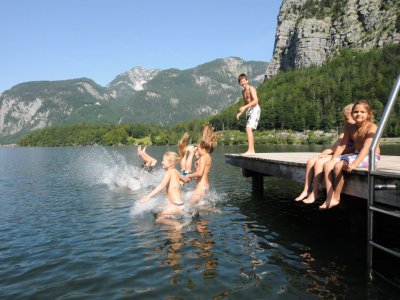 Take an extraordinary ride on Lake Hallstatt with Navia, and turn back time. On board a Zille, sister to those that transported the "white gold" from Hallstatt's Salzberg, or Salt Mountain, into the wider world 500 years ago.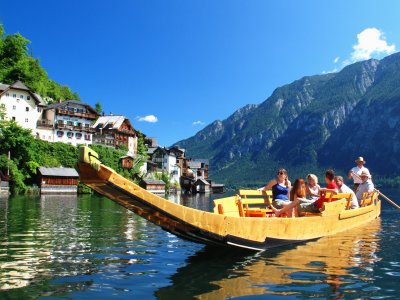 Please note!
How do storm warning beacons work?
Whether you're out in a rental boat from one of the numerous rental agencies on Lake Hallstatt or underway in your own vessel, there is always a potential for storms or high waves on the lake. Storm warning beacons call attention to the weather conditions in the area. The storm warning beacons (an orange, blinking spotlight) are positioned in the north and south so that at least one signal is visual from any point on the lake.
In this manner, water enthusiasts can be immediately warned in the event of strong winds or storms. You should be aware of and heed the respective signals. A quickly rotating light signifies an approaching storm. You should leave the water immediately!
A slowly rotating light means that a storm can arise at some point in the near future. You may remain on the water but stay close to shore. Should you find yourself in a dangerous situation, call the emergency number 130. Your boat rental agency is available to answer additional questions. We hope you have a memorable and safe outing on Lake Hallstatt. 
Questions?
If you have any questions on these topics, please contact the staff at Tourism Information.
All 4 one
Tourist information
The 4 tourism offices of the
UNESCO World Heritage region of H
allstatt Dachstein Salzkammergut
on a click
Tourism information Bad Goisern
Phone: +43 (0) 5 95095 100
E-Mail
Tourism information Gosau
Phone +43 (0) 5 95095 20
E-Mail 
Tourism information Hallstatt
Phone +43 (0) 5 95095 30
E-Mail
Tourism information Obertrau
n Phone: +43 (0) 5 95095 40
E-Mail

Please note
Due to the current situation, changes can occur at any time. We look forward to your visit to the UNESCO World Heritage Region of Hallstatt Dachstein Salzkammergut and wish you a relaxing and restful holiday. See you in the heart of Austria.
Your editorial team.