Stand-Up-Paddling in the Salzkammergut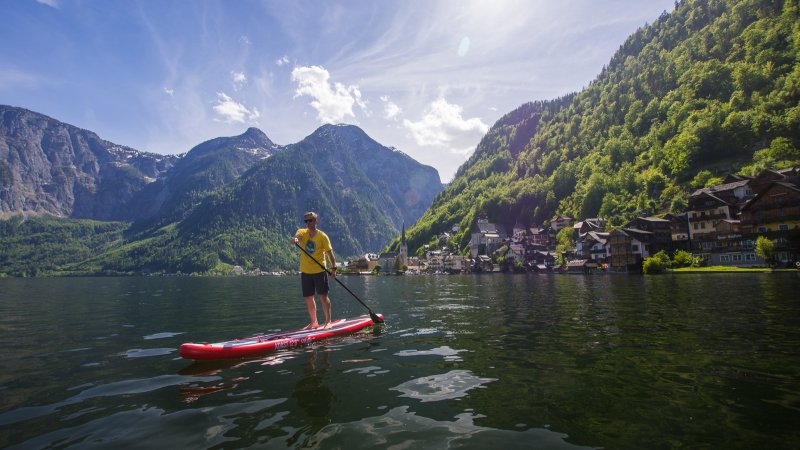 Completely detached!
"Freedom lives on the mountains," thinks many a contemporary when standing on the mountain's summit. But is that really true? Can't you feel almost limitless on water?
Engrossed by space and time. Stand-up paddling, also called SUP for short by friends of the trend sport, offers the absolute opportunity to simply let go.
An idea from the South Pacific
Stand-Up Paddling in the Salzkammergut is water fun for young and old. This mode of transport on the water, originally developed by Polynesian fishermen, trains both balance and muscles – and that individually as you determine the paddle speed yourself.
And the best thing is: you don't need wind or waves and it's really fun!
Regardless whether on the fjord-like Lake Hallstatt or on the idyllic Lake Gosau, this somewhat different leisure sport will inspire you.
By the way: You do not necessarily need to bring your own SUP with you, for a small fee you can rent your board from selected local boat rental companies. This saves space in the boot of your car!
More Stand-Up-Paddling - More water sports
The world-famous view of Hallstatt, idyllic bathing spots, enjoyable stopovers - there is a lot to discover during stand-up paddling on Lake Hallstatt. An experience for both big and small water sports enthusiasts!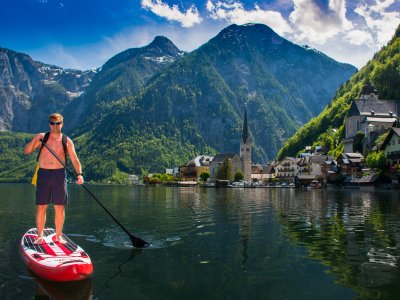 In recent years, Stand-up paddling has also established itself on Lake Gosau, a millennia-old sport from the South Pacific. Sightseeing on the water. King Dachstein always in view.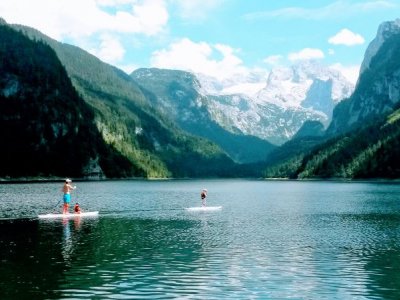 Hiking and mountain biking is getting more and more popular, but also rafting, canyoning, kayaking be the ultimate recreation for a sporty tourist!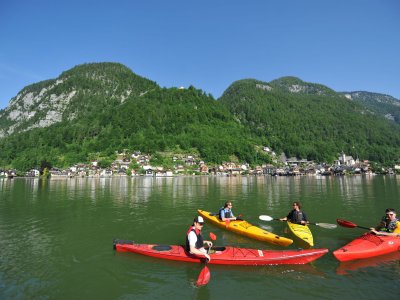 Freie Unterkünfte für Ihren Stand-Up-Paddling im Salzkammergut
Hotels and accommodation providers in Hallstatt, Bad Goisern, Gosau and Obertraun offer the ideal room or apartment for your holidays, no matter what your tastes. Aside from establishments rated according to the international "star" scale, you will also find around Lake Hallstatt in Austria businesses that have been awarded two to four "edelweiss". The more flowers, the greater comforts you can expect. Whether you eventually find your cozy nest in an elegant 5-star luxury hotel, at comfortable guesthouse, a family-friendly apartment, or on a traditional farm, the choice is always entirely up to you.