Hallstatt Hideaway
Hallstatt Hideaway
Dr. Mortonweg 24

,

1830

Hallstatt
Right in the middle of Austria, in the heart of the Salzkammergut region, in the city centre of Hallstatt but also an oasis of calm and tranquility - that is the Hallstatt Hideaway!
Your Offers From 2. December To 4. December Change travelling data
1 result:
Royal Suite WALD
Without meal
€ 895,40
for 2 nights
Average per night: € 447,70
This south facing suite offers an enchanting lake view, a reading corner, a bathroom with bathtub and a four poster bed. 36m2
Equipment:
Bed linen available, Combined living and sleeping area, 1 bedroom, Towels available, Room safe, Dinette, Non smoking room, Bathrobe, Coffee machine, Hair dryer, Seating, Double bed, Vanity mirror, Allergic friendly, Coffee and tea cooking facilities, Additional bed, Windows possible to open, Sauna
Location:
Ocean view, Lake facing, Main building, Sea facing
Sanitary:
Towel dryer, Washbasin, Bathtub, Lavatory, Lavatory and bathroom
Conditions / Extras
Thanks for your booking!
Please note: The price shown on the confirmation does NOT include the taxes (€ 3,00/person and night).
Over the rooftops of Hallstatt
Right in the middle of Austria, in the heart of the Salzkammergut region, in the city centre of Hallstatt but also an oasis of calm and tranquility - that is the Hallstatt Hideaway!
Situated in the historic centre of the UNESCO world heritage town Hallstatt you will find the Hallstatt Hideaway with its 5 Private Suites.
The Hideaway lovers will enjoy the comfort and service of an Hotel in combination with the personal tough of a private holiday chalet. Stylish design meets the original force of historic architecture and handicraft artistic creation.
This means for our guest recreation for body and soul. Enjoy the marvelous lake view in each room, private atmosphere and the rich cultural treasures of Hallstatt and the region.
Our 5 Private Suites in detail:
Private Suite Forest: The Suite excites with a lovely view to the lake, a Ligne Roset sofa, Bathroom with bath tube and a four-poster bed.
Private Suite Sky: This Suite communicating a feel-good atmosphere with four-poster bed, chimney, own library and Ligne Roset rocking chairs.
Private Suite Wood: On appr. 45qm you will find a four-poster bed with view to the chimney or lake Hallstatt, a small terrace and a full equipped kitchennette and an historic baroque wooden ceiling.
Private Suite Lake: "It seems that the lake is lying at their feet!" On arround 60 qm you can expect a floor-to-ceiling window with four-poster bed, kitchenette, Ligne Roset sofa, spacious and part-covered terrace.
Private Suite Salt: Maisonette appartment with floor-to-ceiling window, two terraces, a sofa, Kitchenette wih steamer, separated bedroom on upper floor.
More offers of this host
Hallstatt ist Natur- und Kulturerbe und einer der schönsten Seenplätze Österreichs. Nur wenige Schritte vom Hallstätter See entfernt finden Sie mit "Glück am See" im Bergmeisterhaus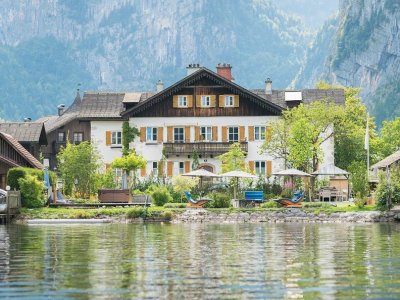 The Family Hideaway is situated in the middle of a very quiet neighborhood called Echerntal.
It is surrounded by a lovely garden and feels like "a real Home away from Home" - just like our award-winning pioneer - Hallstatt Hideaway.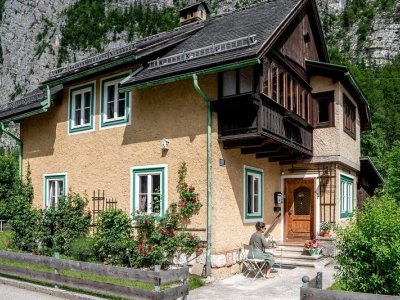 Lakeview Apartments - Relaxing holiday with lake view. Look forward to some relaxing days away from stress and noise and enjoy the Holiday Region Dachstein Salzkammergut with all its must-sees and secret places.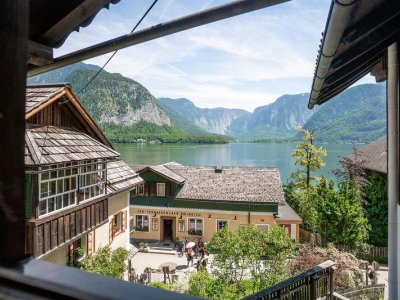 Facilities
Location
In the mountains
Distance to the lake (in km):
Quite environment
Distance to the old town (in km):
Distance to next ski lift (in km): 6.8
Distance to airport (in km): 8.6
Distance to next public transport station (in km): 0.5
Distance to the forest (in km)
Distance to next train station (in km): 0.5
By the lake
Distance to city centre (in km):
Service
Breakfast
VISA
Breakfast on request
Beverages on purchase
Pets permitted
Eurocard/Mastercard
Lawns for sunbathing
Electronic Cash
Continental breakfast
American Express
Pets on request
Diners Club
Credit cards
Vegetarian food
Capacities
Number of suites: 5
Number of beds: 6
Number of apartments: 5
Equipment
Hotel safe
Comfortable ambience
Wifi
Internet usage possible
Luxury ambience
Room with Balcony
Romantic ambience
Sauna
Historical ambience
Chimney
Whirlpool
Non-smoking host
Modern ambience
Leisure/Sport
Boat-trips
Barbecue facilities
Garden
Hiking trails
Themes
Wine and delight
Luxury
Wellness
Bathing/beach/ocean
Hiking/nature
Design
Historical building
Active and sport
Romance
Mountains
Conditions / Extras
You will receive an email with a payment link shortly.
Arrival and departure
- Arrival: from 3.00 pm 
- Departure: by 11.00 am
- Left luggage by arrangement.
Cancellation 
- 7 days before arrival 100%
- until 8 days before arrival 70%
- At the booking we charge 30%
Others
- Dogs are allowed and must be registered. We reserve the right to charge an increased cleaning fee.

Please notice that additional guests will be charged with € 100.00 pP/night. Unannounced guests will be charged with € 150.00 pP/night. We welcome guests over 12 years of age.
We charged a booking management fee of 30% from your credit card which will be added to your invoice. Please be aware that in case of cancellation the fee will be used to cover our expenses. Depending on the availability it is possible to change your date of arrival without additional costs.
Due to availability we serve breakfast in your suite for € 19.00 pP. Please inform us before arrival.
The private sauna "Lovers Paradise" with sanarium, sauna and relax area with lake view can be booked in advance for € 35.00 pP / 3,5 hours. This means a whole house just for you!