Lake side apartment "Glück am See"
Lake side apartment "Glück am See"

Familie Silke Seemann
Seelände 30

,

1830

Hallstatt
Hallstatt ist Natur- und Kulturerbe und einer der schönsten Seenplätze Österreichs. Nur wenige Schritte vom Hallstätter See entfernt finden Sie mit "Glück am See" im Bergmeisterhaus
Your Offers From 27. May To 29. May Change travelling data
1 result:
€ 257,40
for 2 nights
Average per night: € 128,70
2 Schlafzimmer – 1 Bad – max. 6 Gäste - 50 m²
Dieses Apartment betreten Sie durch die seeseitige Haustür des Bergmeisterhauses. Zwei Schlafzimmer, eines mit Kingsizebed und Schlafsofa und eines mit Queensizebed und einem Einzelbett. In einer Frühstücksküche im Gang können Sie sich mit dem Nötigsten versorgen (keine Mahlzeiten kochen!) Ein neu saniertes Bad ist mit einer Miele Waschmaschine und einem Miele Trockner bestückt. Mit dem Apartment haben Sie die Möglichkeit den Garten am See zu benutzen (Kinder ab 12).
Equipment:
Ironing board, Microwave, Vanity mirror, Towels available, Washing machine, Allergic friendly, Refrigerator, Coffee machine, Size in sqm, Hair dryer, Non smoking room, 2 bedrooms, Kitchen unit, Coffee and tea cooking facilities, Seating
Sanitary:
Shower, Lavatory, Lavatory and bathroom, Lavatory and shower and bathroom, Washbasin
Location:
Lake facing, Sea facing
Service:
Pets on request, Pets permitted
Conditions / Extras
Vielen Dank für Ihre Buchung!
Bitte beachten Sie: Der angegebene Gesamtpreis versteht sich OHNE Endreinigung (€ 55,00), sowieOHNE Ortstaxe (€ 3,00/Person und Nacht) ist im Preis noch nicht inbegriffen.
Hallstatt is one of the most beautiful places in Austria, well known for it's unique history and stunning nature. The Bergmeisterhaus "Glück am See" is located only a few steps from the lake and inspires for relaxing and lucky holidays in the nature.
The Bergmeisterhaus "Glück am See" is located just a few steps from the mystic lake Hallstatt.
Two wonderful equipped apartments are a wonderful starting point for long walks in the nearby mountains or woods or for mountainbike tours. The lake invites for a refreshing swim afterwards or just to relax and read a nice book.
The cable car to the famous saltmine can be reached with a few steps.
Have a wonderful time!
More from this host
The Family Hideaway is situated in the middle of a very quiet neighborhood called Echerntal.
It is surrounded by a lovely garden and feels like "a real Home away from Home" - just like our award-winning pioneer - Hallstatt Hideaway.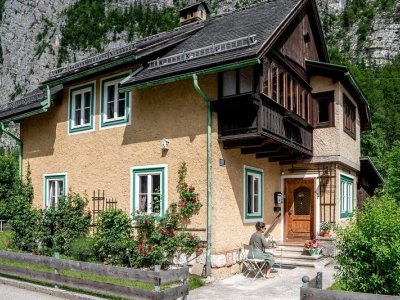 Right in the middle of Austria, in the heart of the Salzkammergut region, in the city centre of Hallstatt but also an oasis of calm and tranquility - that is the Hallstatt Hideaway!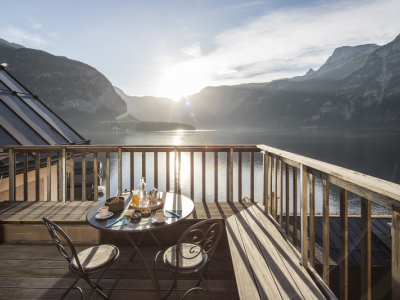 Lakeview Apartments - Relaxing holiday with lake view. Look forward to some relaxing days away from stress and noise and enjoy the Holiday Region Dachstein Salzkammergut with all its must-sees and secret places.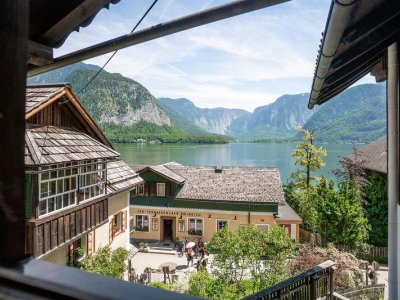 Facilities
Location
Distance to airport (in km): 1.14
By the lake
Distance to the beach (in km): 0.5
Service
No board included
Diners Club
Pets on request
American Express
Breakfast on request
Breakfast service
VISA
Breakfast
Pets permitted
Capacities
Number of double rooms: 3
Number of apartments: 2
Number of beds: 3
Equipment
Comfortable ambience
Baby cot
Non-smoking host
Familial ambience
Modern ambience
Basic ambience
Wifi
Themes
Families
Active and sport
Hiking/nature
Mountains
Sports
Bathing/beach/ocean
Conditions / Extras
You will receive a mail from us shortly with a payment link.
Arrival and departure
- Arrival: from 3.00 pm 
- Departure: by 10.00 am
- Left luggage by arrangement.
Others
- Smoking is not permitted at Glück am See Apartments.
- pets on request
- only a washing machine and dryer is available in the sea side apartment.
Please order your breakfast for € 25,00 per person and night. We will serve it directly to your room. Orange juice, cold cuts, cheese, butter, yoghurt, orange juice, milk in your fridge. Frozen rolls in your freezer, fresh muesli and fruits for a healthy start in the day.