Stunning underwater world in winter
High mountains and deep lakes with the best drinking water quality, rivers teeming with fish and crystal clear karst springs will send Neptune followers into raptures whilst diving in the Salzkammergut. Fascinating diving - from introductory and special diving courses to full-day dive trips – there is something for everyone on a diving holiday in the Salzkammergut. Dive into the stunning underwater world of the Hallstatt and Gosau lakes in wunter.
Challenge beneath the ice
When it is bitterly cold outside then the bell tolls for ice divers, in the Salzkammergut. The crystal clear mountain lakes – such as in Hallstatt and Gosau – are especially popular amongst divers. Not all lakes freeze over, but all small, biologically active, beautiful, exciting lakes provide the fresh ice for an ice diving adventure. It's a whole new experience, a fairy-tale world beneath the ice of the Salzkammergut lakes.
Ice diving means solitude, silence and isolation. When the sunlight breaks through the crystal clear ice, the result is an indescribable beautiful picture. Ice diving is one of the biggest challenges for experienced divers. It starts a journey of discovery into icy depths, in an enchanted, mysterious world. Those who want to venture into the icy depths of the Salzkammergut must be in a physically good condition in order to enjoy this unforgettable adventure properly.
More offers for divers in the Salzkammergut
The hiking paradise Salzkammergut also provides some very special challenges. If you hike around the Limbach cascades near Lake Attersee, you should always haue your diving mask to hand.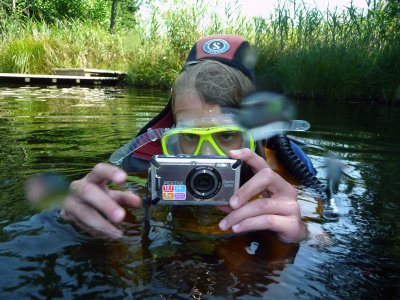 Diving | Salzkammergut: The crystal clear mountain lakes of Gosau and Hallstatt are amongst the most attractive diving areas in Europe. That is what makes diving in the Salzkammergut so appealing.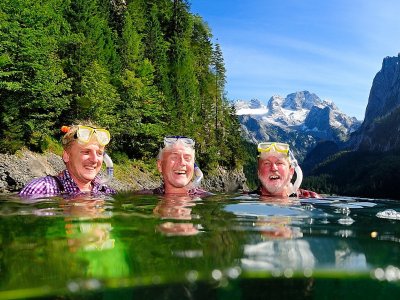 Accommodation for diving friends
Hotels and accommodation providers in Hallstatt, Bad Goisern, Gosau and Obertraun offer the ideal room or apartment for your holidays, no matter what your tastes. Aside from establishments rated according to the international "star" scale, you will also find around Lake Hallstatt in Austria businesses that have been awarded two to four "edelweiss". The more flowers, the greater comforts you can expect. Whether you eventually find your cozy nest in an elegant 5-star luxury hotel, at comfortable guesthouse, a family-friendly apartment, or on a traditional farm, the choice is always entirely up to you.