"Home Bringer Hiking Taxi" Gosau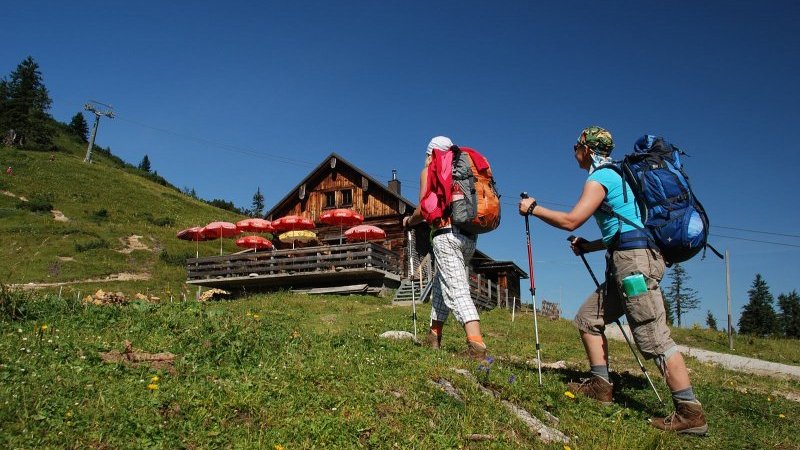 Hiking is so relaxed today
Fancy a hike with family or good friends in the Dachstein West hiking world on the Zwieselalm in Gosau? On excellently marked hiking trails and delicious stopovers in the numerous rustic mountain huts? Hiking to Annaberg or Russbach? And no idea how to get back? Then we have just the thing for you!
Back to the Origin
This allows hikers on the Zwieselalm to travel comfortably from Annaberg via Russbach to Gosau and back again.
Register in good time
Of course, for organisational reasons you should register in good time. Ideally one day before and then enjoy the magnificent mountain world around the Gosaukamm. Further details below under "Information at a Glance". Easy and comfortable - this is how hiking is done today in the Salzkammergut!
Where Hiking Enthusiasts and Sunbathers Meet
The Zwieselalm in Gosau is one of the most beautiful hiking areas in the UNESCO World Heritage Region of Hallstatt Dachstein Salzkammergut. Extensive hiking routes lead over alpine meadows and through shady mountain forests where one can spend hours of enjoyment or relish in short hikes from one alpine lodge to the next. Whether you're stopping in for a pleasant snack at the Gablonzer lodge, a thirst quencher at the Zwieselalm lodge or a relaxing sun bath at the Sonnenalm, the family-friendly hosts, pure mountain landscapes and impressive views of the picturesque Gosau Lake promise an unforgettable experience in the Lake Hallstatt and Gosau Valley region. We hope you enjoy your hiking holiday in Austria!
Mehr Shuttle Möglichkeiten
 A special experience for both young and old alike. Slowly and unhurried through the Gosau Valley - time is irrelevant.
Here you will find taxis around Lake Hallstatt and in the Gosau Valley that will pick you up from your hiking destination or take you to the starting point of your tour safely, comfortably and without complications.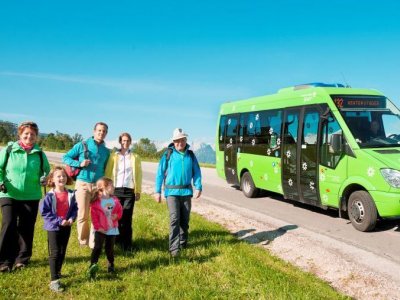 Enjoyment without effort: With the Alm Taxi to the most beautiful alpine pastures in the Gosau Valley. This makes an excursion with friends or family even more fun. Just stick your thumb out and off you go.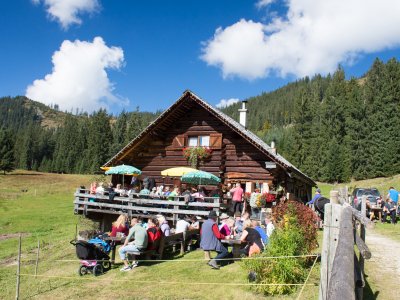 Search and Book
Hotels and accommodation providers in Hallstatt, Bad Goisern, Gosau and Obertraun offer the ideal room or apartment for your holidays, no matter what your tastes. Aside from establishments rated according to the international "star" scale, you will also find around Lake Hallstatt in Austria businesses that have been awarded two to four "edelweiss". The more flowers, the greater comforts you can expect. Whether you eventually find your cozy nest in an elegant 5-star luxury hotel, at comfortable guesthouse, a family-friendly apartment, or on a traditional farm, the choice is always entirely up to you.