Autumn Hikes as a Feast for the Senses
In autumn, walkers and hikers in the UNESCO World Heritage region of Hallstatt Dachstein Salzkammergut experience a true feast for their senses, thanks to colourful deciduous forests, warm sunshine, the clear air and the typical delicacies from the Salzkammergut. You can hike so long around Lake Hallstatt and the picturesque Gosau valley like nowhere else in Upper Austria, as many of the huts and cable cars are open until the end of October. Below is an overview of all tours. There's something for everyone. Walks, day hikes, half-day tours or long-distance hiking trails.
More informations
Here you will find an overview of all hiking tours in and around the Lake Hallstatt area, at a glance. From the high alpine hikes to leisurely tours in the valley.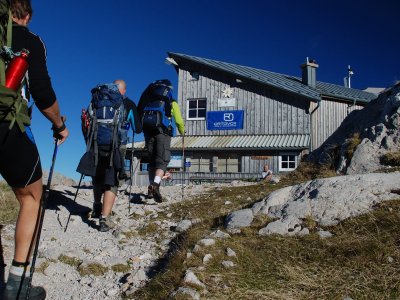 Feel as a team. Enjoy conversations, laugh and move, get out of breath, arrive together and look down into the valley and enjoy the wonderful views.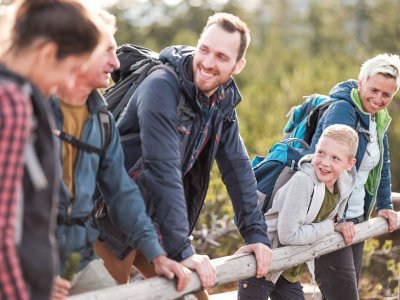 Family hiking in autumn vacation
An ideal autumn hike for young and old is the family-friendly Zwieselalm in the Dachstein Hiking World in Gosau. After a relaxing ride on the "Gosaukammbahn", well marked hiking trails lead through the sunny high altitude and alpine flora to the huts, which remain open until mid-October. The charm of the area is, among other things, the view into the deep autumn Gosau valley. With the imposing crags of the majestic Gosaukamm, sheer rock walls and striking peaks tower loom all around the huts. Below we have summarized more family-friendly hiking trails in the Salzkammergut for you.
Family walks are very popular. What could be better than hiking with the whole family? - The kids can let off steam while parents can enjoy the beautiful scenery in-between.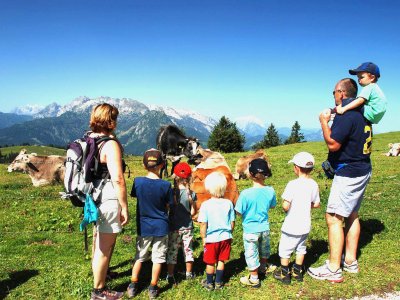 Colourful light shows
Tranquillity, as you have never experienced it before. Get up early in the morning, before sunrise and stand in front of the hut and be immediately surrounded by the unspoilt nature of the UNESCO World Heritage region of Hallstatt Dachstein Salzkammergut. Birds sing the first song of the day. Cowbells ringing in the distance, enjoy your morning coffee on the hut bench while tasting the fresh air - that's what people from all over the world find fascinating about a magical overnight stay in a hut in the holiday region of Dachstein Salzkammergut. Relax your eyes and gaze into the distance, forget everyday life, soak up the rays of the sun, feel the wind on your skin and just unwind. So have we filled you with desire? What are your criteria for a hut night?