Safely through the via ferratas of the World Heritage Region
Fancy climbing in the UNESCO World Heritage region of Hallstatt Dachstein Salzkammergut? On the "Dachstein Gams" via ferrata in Obertraun? Or on the numerous other via ferratas in Gosau? With their steel cables, ladders and steel brackets, via ferratas are becoming more popular, and accidents involving inexperienced climbers are on the increase. The Alpine Club has put together tips to help via ferrata fans stay safe and therefore reducing the workload of the mountain rescue. Professionals from the Austrian Alpine Association (ÖAV) have summarised the following key safety tips for you to enjoy accident free climbing in the Salzkammergut.
Plan carefully!
Planning is the key to safe and enjoyable tours. Inform yourself exactly about difficulty and length, entry and exits, weather and conditions. By the way, for every via ferrata there are guidebooks with topos (= route sketches) – in addition, a short search on the Internet can provide valuable information.
2. Choose to match your personal conditions!
Choosing a too high level of difficulty can reduce the experience and lead to dangerous situations.
"Passion and ambition are good, and without them we would not go mountain climbing. However, it is important to find the right balance - between risk and adventure on the one hand and personal skill, fitness, experience and level of education on the other. There are three factors which are essential to consider: the difficulty, the length and the nature of the entry and exits ", emphasises the state-certified mountain and ski guide and mountain sports expert Michael Larcher from the Austrian Alpine Club (ÖAV).
Complete, standardised equipment
Climbing harness, via ferrata set and helmet: Only the consistent and proper use of the equipment enables a safe ascent of climbing routes. For emergencies always carry a first aid kit and mobile phone (Euro-emergency call 112 or 140 for mountain rescue.
Michael Larcher on the via ferrata equipment: "Modern via ferrata sets are recognisable by the fact that in place of brake plates and brake lines, they are equipped with energy absorbing lanyards, which offer both safety and comfort. Of particular importance for the enjoyment of the via ferrata are functional carabiners that are easy to use and automatically close. Already at the point of purchase one should critically examine whether a model of carabiner 'fits '- you will possibly be hooking on and off with this carabiner thousands of times! A helmet is also standard with via ferrata gloves being a 'nice to have '. "
Do not proceed during the risk of a lightning storm!
A lightning strike is life threatening. Rain, cold and wet increase the risk of falls. "A via ferrata always constitutes as being an oversized lightning rod. Our code of practice is to deliberately consult the weather forecasts for thunderstorms. Abandonment or good timing are then the options. Be warned that if you are surprised by a thunderstorm, not to make a false reaction: Stay connected with the cable! The danger of falling always outweighs the risk of being struck by lightning" warns Larcher.
Check cables and anchors!
Rockfall, snow loading, frost damage or corrosion can cause damage to the climbing facility. Never enter closed via ferratas.
Michael Larcher comments: "Every via ferrata is also a path in the legal sense and therefore has a 'Path owner ', i.e. someone who is accountable and responsible for the maintenance and for the eventual closure. This means - as opposed to climbing routes – on open (!) via ferratas we should expect modern safety standards. Nevertheless, we should maintain a critical eye ".
6. Partner check at the entrance!
Mutually check: buckle, connection of via ferrata set with harness, helmet. "Before we start, we use the principle of dual control and monitor each other's security measures," explains Larcher.
Maintain sufficient distances!
Only one person should be climbing between two fixed points. "Our current security technology on via ferrata can indeed prevent a fall, but not the free fall until the next anchor. And that, after all, can be up to six metres. This enormous crash energy can be dangerous for a too close following climber"emphasises Michael Larcher.
Clear consultation when passing!
Communication and consideration prevent dangerous situations when overtaking or with oncoming traffic. Larcher: "An overcrowded via ferrata can be a good reason to refrain from committing. Overtaking should always be discussed and always - calmly and considerately - performed at suitable locations."
Caution falling rock!
Mindful climbing prevents rockfall. "This recommendation is once again an urgent reminder of the usefulness of a helmet. Furthermore, we should be reminded that that a neat movement or climbing technique can prevent triggering rockfalls ourselves and thus endangering following climbers "warns Larcher.
Respect nature and the environment!
Travel by public transport or car-pooling. Avoid waste and noise.
Michael Larcher emphasises: "via ferratas make natural spaces accessible and it must be a matter of course that we avoid noise and waste, do not disturb wildlife and grazing animals and stay on designated paths during entry and exit. An appeal is also addressed to our arrival behaviour: carpooling is good - public transport is better. "
Rock climbing has become very popular in region Dachstein-Salzkammergut over the last number of years. And no wonder – there thousands of cliffs, bluffs and crags for climbers to test their skills.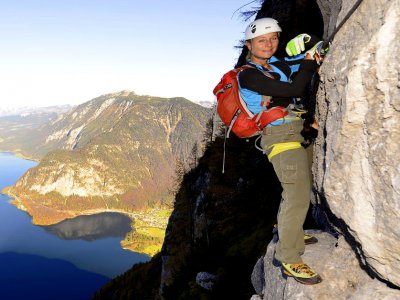 Informationen at a glance
All 4 one
Tourist information
The 4 tourism offices of the
UNESCO World Heritage region of H
allstatt Dachstein Salzkammergut
on a click
Tourism information Bad Goisern
Phone: +43 (0) 5 95095 100
E-Mail
Tourism information Gosau
Phone +43 (0) 5 95095 20
E-Mail 
Tourism information Hallstatt
Phone +43 (0) 5 95095 30
E-Mail
Tourism information Obertrau
n Phone: +43 (0) 5 95095 40
E-Mail