Laserer Alpin Lake Gosau Fixed Rope Route
Directly above the "Gosausee", this rock climb allows you to enjoy stunning views of the majestic Dachstein - throughout the whole day. First you follow the lakeside trail and then walk down to the lake itself. From here the rock faces, situated directly above the lake shore, are accessed via a Jacob's Ladder. After this first ascent, you make your way through stunning Dachstein chalk scenery to the highest point along the route. Here you can enjoy breathtaking views of the Dachstein and the Gosau glacier. In one big circuit you will reach the rope bridge. Cross the rope bridge and take the via ferrata up to the "Adlerhorst" ("Wandbuch") The trail continues via a ramp back to the start.
Gosau | Breath-taking glacial views, rustic alpine huts, challenging fixed-rope climbing routes, sensational water settings—a travel destination with endless possibilities!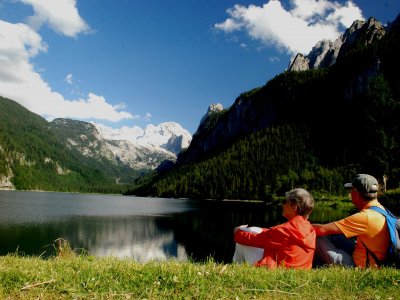 Safety on the rock face
In recent years rock climbing has developed encouragingly strong and each year inspires more and more people. Its versatility means you get a taste of everything: whether hard tracks in the Boulder room or indoor climbing hall, long routes with alpine ambience or leisurely tours on a sunny cliff - in climbing, regardless of age, everyone finds their individual conditions. Safety guidelines play an important role in enabling you to enjoy this fascination to the full. The best advice for "correct" climbing in the Salzkammergut region can be found here.
Information at a glance
Builder and year of construction: 2010
Hike to Entrance: ca. 20 min from Hotel Gosausee
Descent: ca. 20 min back to Hotel Gosausee
Climbing meters: 120 m
Altitude: 60 m
Town or village: Gosau
Drying time after rainy days: 1 days
You must use the latest safety equipment if you climb a ferrata - at least harness, ferrata-set and helmet. Editor, property owners, ecommenders, builder and sustainer are not liable for accidents of any kind. ist
Service Topography
Whether online or offline: All important information about this tour as a PDF on your tablet or smartphone.
Alpin Laserer Klettersteig in Gosau PDF
Tour and route information
Starting place: 4824 Gosau
Starting point: hotel Gosausee
Destination: 4824 Gosau
Destination: hotel Gosausee
Duration: 1.5 hours
Length: 0.12 km
Metres of altitude: 60m
Lowest point: 940m
Highest point: 1000m
PDF
Our advice: Conveniently download prices,
opening times and other information for
your holiday in the UNESCO World Heritage
region of Hallstatt Dachstein Salzkammergut,
as a PDF on your tablet or smartphone.
So you are always well informed
and have all important information at hand.
Here you will find all possible accommodation
in the area with description
and price information.  (102.13KB)